Dry construction technology plaster plant ready mixed plaster mixer made in China Factory
Introductions
1. Gypsum plaster mixer (or gypsum plaster production line) is a set of machinery that produces gypsum plaster for construction industry and other uses.
2. Full Automatic gypsum plaster plant mainly produces skim coat face layer gypsum and undercoat base layer gypsum with special function for internal wall.
3. The whole gypsum plaster production line includes Mixing machine, Measuring system, Bulk and Packing system, De-dusting system, Electrical system and Spot agitation tank.
4.It can be adopted in production processes of special mortar, ordinary cement mortar, anti-crack mortar, thermal mortar, wall putty, gypsum, energy saving wall materials, etc.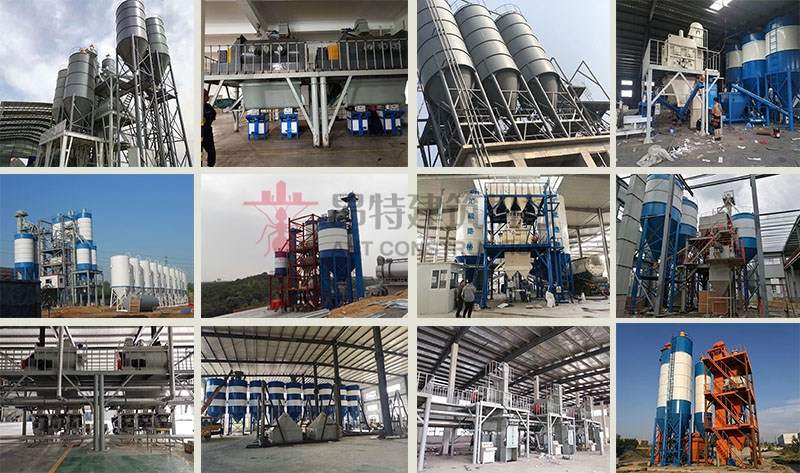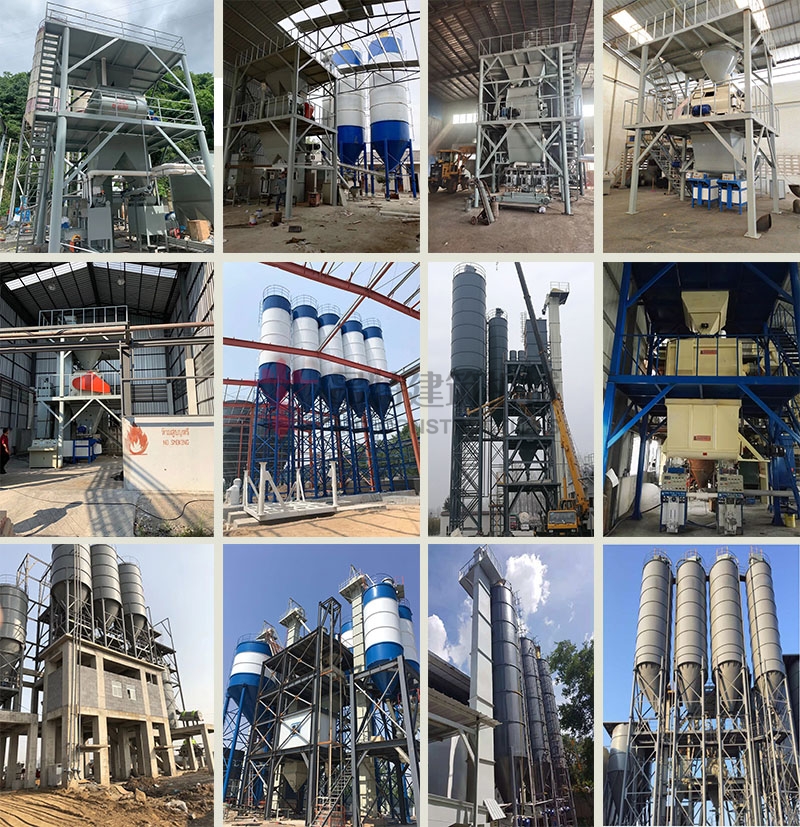 Main parameters
Model

Mixer

volume

Capacity

Total power

Occupation area

Height

Worker required

Workshop Type Dry Mortar Production Line

ACM 2000

2m3(ribbon)

1-5t/h

5.5-11kw

20m²

3.2m

≥3

ACM2000

2m3

5-8t/h

24-28kw

30m²

6m

≥3

HTTL2000

2m3

10-15t/h

60-80kw

50-60m²

9m

≥4

HTTL3000

3m3

15-25t/h

80-110kw

60-80m²

9.5m

≥4

HTTL4000

4m3

25-35t/h

100-150kw

80-100m²

10m

≥4

Tower Type Dry Mortar Production Line

HTTL4000

4m3

35-45t/h

140-170kw

120-180m²

25m

≥4

HTTL6000

6m3

35-75t/h

150-180kw

≥300m²

35m

≥4

HTTL10000

10m3

80-120t/h

160-200kw

≥300m²

35m

≥4
Main Applications
1.Interior wall putty
1.1 ordinnary interior wall putty(include gypsum-base putty)
Mainly used for leveling wall putty,it has no waterproof perfromance, must brush paint putty surface in case of surface decoration fall-off.
1.2 Waterproofing putty interior wall
Paint not necessary for ordinary indoors wall if applicated waterproof putty, it mainly used for basement, bathroom, kitchen and other places with large vapor
1.3 Flexible putty interior wall
Interior wall flexible putty is suitable for interior walls with anti-cracking performance, such as insulation system for interior wall, because there is insulation material on mansonry substrate, this requires a certain flexibility of putty which is used on exterior of insulation layer.Similar reasons for external wall putty
2.Exterior wall putty
2.1 Waterproofing putty exterior wall
2.2 Flexible putty Exterior wall
2.3 High flexible putty exterior wall
Gypsum based putty
Gypsum-based putty having special properties such us short solidification time, volume expansion. Because gypsum is not waterproof,it need a layer paint on gypsum suface. Gypsum-based putty is mainly used for leveling the wall which is uneven (if use ordinary putty, spalling and cracking maybe occured cause too think leveling layer ), gypsum-based putty can also be used for adhesive gypsum board, gypsum grout.


In addition to choosing reliable quality machinery and equipment, it is also necessary to consider the professional capabilities of the supplier, the ability to design solutions based on the real needs of customers, whether it can provide low-cost and high-quality mass production formulas, and the application of finished products in the future Solutions to problems that arise, etc.
Ant Construction Machinery commitment to customer care, right from the initial enquiry through to project completion, is to ensure total customer satisfaction; confidence in our products and to be available when you have an enquiry or require support. With over 20 years of industry experience , Ant Construction have been at the forefront of producing the dry mortar mix plant, at Ant Construction, we offer high quality products alongside expert advice and good customer service.
Henan Ant Constructions design suitable formula according to your local materials feature and also provide kinds of suitable chemical additives, cooperated lab for making different testing of additives and finished mortar is available too.