Semi Automatic Dry Mix Sand Cement Batching Plant Mixer Machine for Sale
Introductions
Semi Automatic Dry Mix Sand Cement Batching Plant Mixer Machine aslo called energy-saving dry mortar mixing plant, dry mortar mixing machine, dry mortar mixing equipment, which can feed various materials into the bin, under the automatic control system, the production line can realize automation in materials transporting, mixing, filling and packing. It is the ideal selection for set up a middle scale dry mortar factory with reasonable price and quick refund.
Semi Automatic Dry Mix Sand Cement Batching Plant Mixer Machine mainly includes Electric control cabinet; Feeding hopper; Pulse dust collector; Bucket elevator; Twin shaft agravic mixer; Finished product tank; Automatic packaging machine; Air compresser, etc.
Features
1. Covers 30-50m2 area ,
2. Less investment and quick refund,
3. Easy operation, 2-3 workers can operate this production line
4. Height less than 8m, ordinary workshop can be use as factory production, this solve the problems of traditional dry mortar production line has to increase height of factory
5. It achieve function of manual batching main raw materials, automatic mixing, automatic filling and packing at 15-50kg/bag , ideal choice as a practical dry mortar production line of low investment but high output capacity.
Applications
Semi-auto dry mortar mixing production line widely applicapable for below product:
1. masonry mortar,
2. tile adhesive mortar,
3. tile glue,
4. tile grout mortar,
5. jointing mortar,
6. bonding mortar,
7.screed mortar,
8. thermal insulation mortar,
9. decorative mortar,
10. Skim coat wall putty powder and wall primer
11. thermoplastic road marking paint, etc.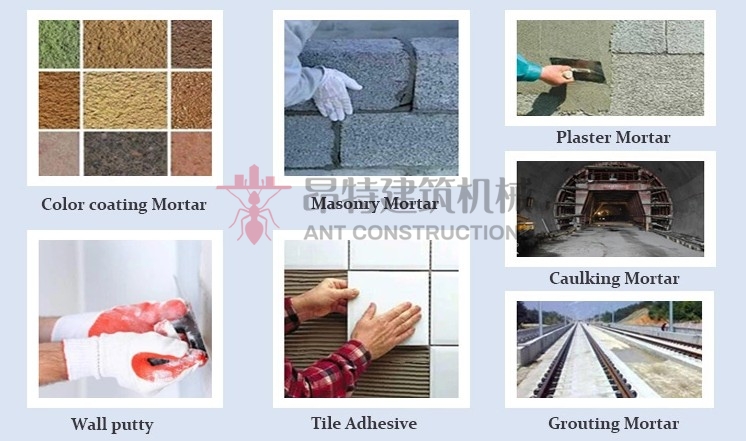 Parameters
| | |
| --- | --- |
| Mortar output capacity | 5-15t/h |
| Mixing time | 300s |
| Mixer type | non-gravity, twin shaft |
| Total power | 46.5-65kw |
| Occupy area | 50-105m2 |
| Workers | 2-4 persons |
| Main materials Batching | Manually, suitable for cement in bags |
| Packaging machine | Valve packing machine or open mouth packing machine |
Our plants use the latest dry-mix technology, ensuring that the materials produced achieve the highest standards of quality and consistency.
We provide our customers with a trouble-free solution to their mortar producing requirements. We produce dry mortar mix machine using the latest technology and innovative equipment, enabling us to tailor our resources to meet each individual customer's material requirements.
Ant Construction Machinery commitment to customer care, right from the initial enquiry through to project completion, is to ensure total customer satisfaction; confidence in our products and to be available when you have an enquiry or require support.