Full automatic dry mortar mix batching production plant
Author:ANT CONSTRUCTIONS Comefrom: Createdate:2020/7/25 15:02:57 Hits:
67
Full automatic dry mortar mix batching production plant
Indonesia projects-Full automatic dry mortar mix batching production plant
Full automatic dry mortar mix batching production plant with sand dryer build in Indonesia in July of 2019 is specially designed for our Indonesia customer who wants to develope self-leveling mortar as his new project, in generally, drymixing mortar requiers sand moisture less than 1% due to it needs to be mixed with cement and other powder materials which have special chemical features, after knowing it is quite difficult to get dry sand in customer local market, Henan Ant Constructions recommended customer use sand dryer to process the wet sand to meet drymixing standard. In the initiation customer communicated to us they will use natrual gas as fuel of sand dryer, however, after we builded the dry mortar mix plant and sand dryer fouded customer use the non natrual gas, they use biologic gas which included a lot CH4 that is difficult to be lighted by our natrual gas burner, however, our engineer solved this problem by other technical changing for the biologic gas and can be lighted easily by our gas burner. In this case, it is very important that you should be communicated your actual situation to your supplier before purchasing a complicated dry mortar mix plant.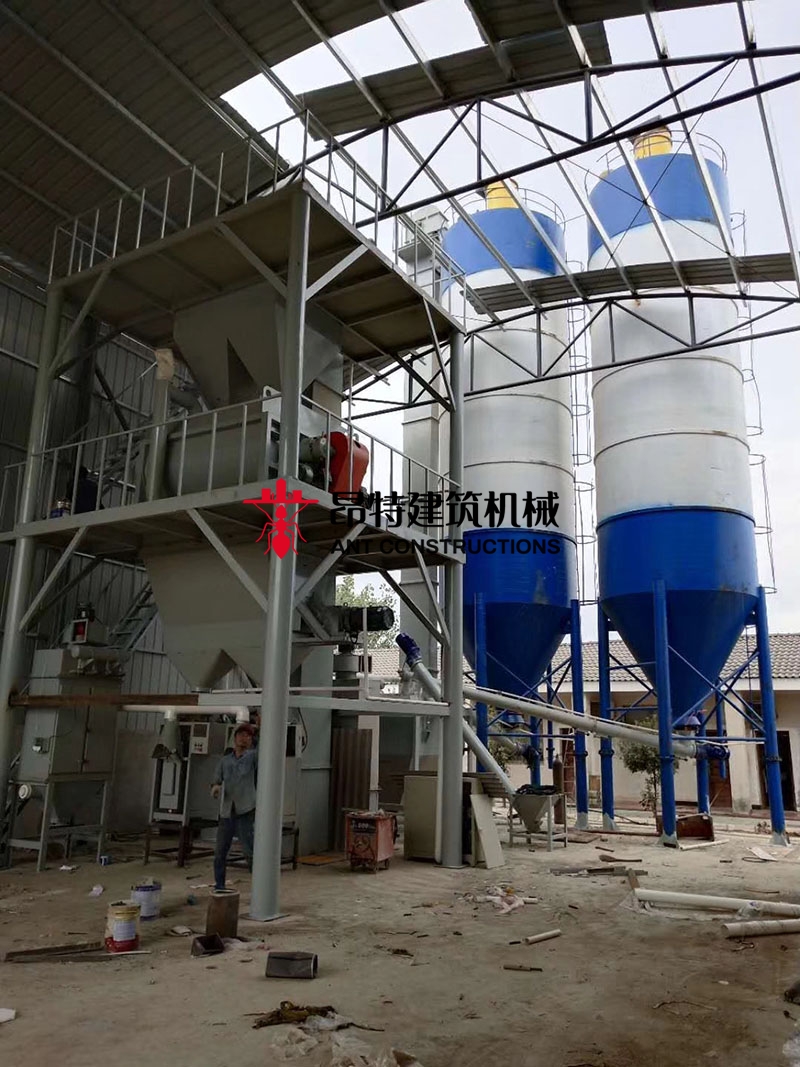 Because our Indonesia customer is completely new involved in self-leveling mortar project, we provided them strong and lot technical supports due to self-leveling dry mortar is a new green product with high complicated technology. It is a dry mixed powder composed of a variety of active ingredients, and can be mixed with water at site. Just use blade expanded, the whole base surface get extremely smooth. The speed of hardening is fast, it can walk on the top only after 4~8 hours, or carry on the follow-up project (such as the wood flooring, the metal plate etc.). The construction is fast and easy to be compared with the traditional manual leveling. Safety, pollution-free, beautiful, fast construction . It has promoted the civilized construction procedure, created the high quality, comfortable and add colorful colors to life. The formula for self-levling mortar is quite complcated and included varies materials which have big difference in density, sizes and chemical faeatures, it is not only requires the production machine exactly suitable chose, designed produced but also requires supplier have enough real production experience in self-leveling mortar.
Where to buy Full automatic dry mortar mix batching production plant
Henan Ant Constructions as one professional supplier of dry mortar plant, formula technology and additives for dry mortar and putty powder in china, not only provide customer equipment, but also provide additives, formula technology, and problem consultation during application of mortar and putty powder during construction.
Henan Ant Constructions design suitable formula according to your local materials feature and also provide kinds of suitable chemical additives, cooperated lab for making different testing of additives and finished mortar is available too.
In addition to choosing reliable quality machinery and equipment, it is also necessary to consider the professional capabilities of the supplier, the ability to design solutions based on the real needs of customers, whether it can provide low-cost and high-quality mass production formulas, and the application of finished products in the future Solutions to problems that arise, etc.
Contact Henan Ant Constructions to start your business successfully...