Dry Mix Cement Sand Based Mortar Mix Machine
Introductions-Dry mix cement sand based mortar mix machine
dry mortar mix machine is mainly composed of efficient mixing system, raw materials storing system, conveying system, lifting system, weighing system, premix system, packaging systems, dust collecting system, material level control system, pneumatic system, automatic control system. It's daily output can be vary from 40-800 tons, mainly used for producing the premix mortar by mixing sand, cement, fly ash, cellulose, and additives together.
This kind automatic premix plant can add configurate with crushing machine, screen machine and drying machine in the area of lack of dried sand.

Large scale automatic dry mortar mix machine generally include: sand dryers, vibrating screen, belt conveyor, raw material storage silo, weighing hopper, twin shaft agravic dry powder mixer, bucket elevator, finished product holding tank, automatic packaging machine, bulk container vehicle and spot mixing silo, etc.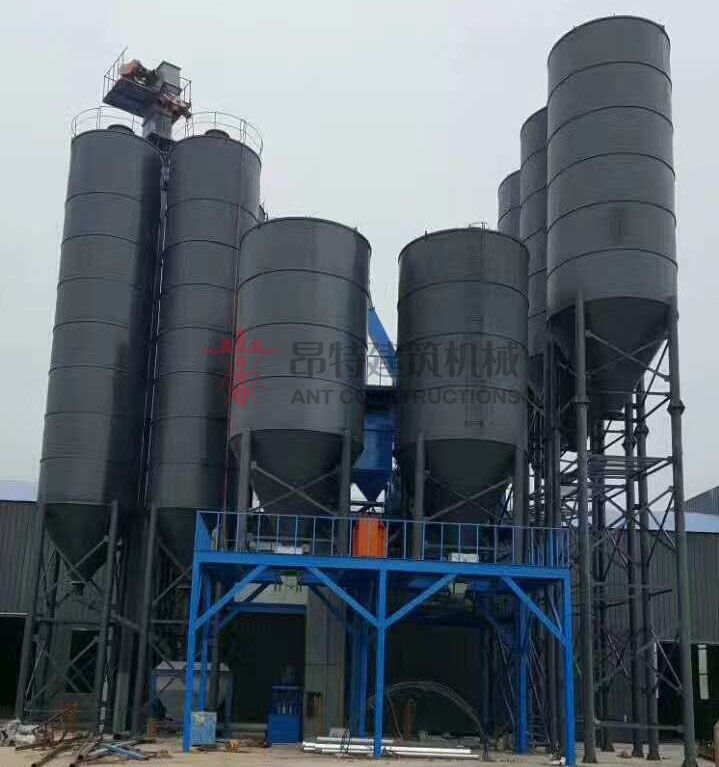 Main Parameters-Dry mix cement sand based mortar mix machine
| | |
| --- | --- |
| Productivity | 10-80 t/h |
| Plant area | 100-500 m2 |
| Total power | 100-500 kw |
| Workers | 3-5 persons |
| Plant height | 12.5-28 m |
| Packaging system | 25kg bag, ton bag, tank storage |
| Mixer volume | 2-10m3 |
| Mixing cycle | 180-300 s |
| Warranty | 12 months |
Main equipment and functions-Dry mix cement sand based mortar mix machine
The screw conveyor system: conveying sand, cement, fly ash when automatic batching.
bucket elevator: lift materials pre-mixing silo.

Twin shaft non-gravity mixer: mix material uniformly, special paddle sets used for mixing fiber. Big double doors accelerate material discharge uniformly, paddle sets are optional as per different material.

Finished product silo: store finished material with secondary mixing for package. Finished product silo is available for connecting automatic metering packer and manual discharging valve.

Automatic weighing packer: Automatically weighing and packing finished product in high accuracy.

Pulse de-dust: absorb the dust during production process, mainly used for de-dust from material in-charge hopper and packer

Control cabinet: includes instrumentation and PLC control for controlling electrical switch of the whole production lines.

Compressor: Produce compressed air for the whole air compressing system